This cover letter sample is so compelling, I can't imagine that the employer would not want to interview and hire this job seeker. Anja hits every bottom line and emotional button in the book, showing off her good sales skills in the process.
What strikes me most about this letter is the way Anja uses two past "failures" to highlight her career success and influence her reader to not miss out on the opportunity to hire her. It's a very clever approach that I believe will pay off big time.
Notice how Anja refers to her many strong achievements and draws a clear line of success to her future at her reader's company. These achievements are also highlighted in her matching resume.
Sample Cover Letter for Senior Sales Account Executive
Dear Hiring Manager,
With several years of Sales and Account Management experience under my belt, I am very interested in continuing my sales career as a Priority Sales Account Executive with Ravenwood.
I have been following the growth of your organization for quite some time. In fact, I applied for this position last year but received only an automated response. I wanted to touch base again because I am determined to interview with Ravenwood. I would be very grateful if you could take a second look and reconsider my qualifications.
I'm no stranger to a challenge. After interviewing for my last position at Vehicle Ease, I was not hired my first go-round. At the time, Vehicle Ease was my one and only choice, and I really felt they were making a mistake. After initially being declined for the position, I didn't hesitate to ask them to reconsider. My determination got me hired, and by the end of my second full month with the company, I'd broken every sales record in company history. Today, Ravenwood is truly my one and only choice and I am determined to show you my value.
During my six years of selling Vehicle Ease's consultative services, I continued to set records, create new streams of revenue, educate and train new and existing team members, and grow a huge pipeline of satisfied customers. The last few years of my employment, I worked 100% off of my referral and repeat business, taking no warm leads from the company pool. I was also responsible for starting and implementing Vehicle Ease's Corporate Sales department, which gave me a ton of experience selling to the VP and C-suite executives, similar to your Priority Sales clientele.
I am eager to start breaking sales records at Ravenwood, and would very much like to speak with you about this opportunity. Could we schedule a time to talk or meet at your convenience?
Sincerely,
Anja Plmnht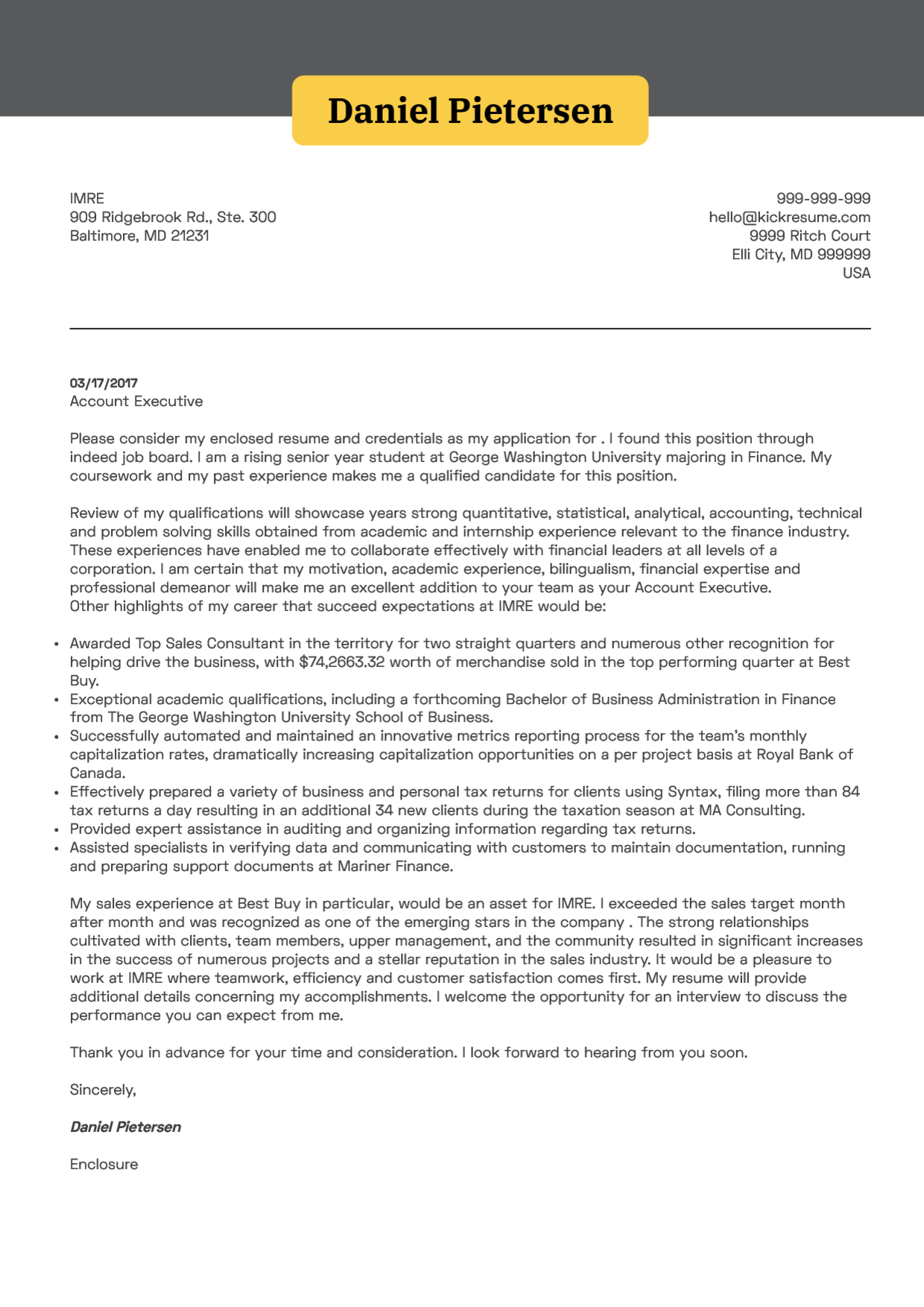 Account Executive Cover Letter Sample | Kickresume

Account Manager Cover Letter Example | Resume Genius

Sales Account Executive Cover Letter Sample | Cover Letter